Knife Lounge - Report 13.11.23
Top 10 der 42a-konformen Messer
Folgende Produkte möchten wir dir genauer zeigen.
Combat Beads Scout F2, F3.5 with Inlay Magnacut
Combat Beads Scout F2, F3.5 with Magnacut inlay - pre-orderPre-order your F2 or F3.5 Titanium Framelock with inlayExpected delivery: March/ April 2024Pre-orders available for a short time! You have the choice between 5 inlays:Natural MicartaBlack MicartaOlive MicartaMarbled CarbonBrassSmall but mighty - the Scout F2 The F2 is really practical for everyday use. With a total length of just 12.7 cm, it fits in almost any pocket The Scout F3.5 - big and reliable If you like it bigger, then the F3.5 is your match. It is the pumped-up brother model of the F3 with an impressive 21.6 cm. Payment informationOn account or cash on delivery is not possible when pre-ordering, but don't panic, we have many other secure payment methods available.
€280.00*

€290.00*

(3.45% saved)
Combat Beads Scout F2, F3.5 Magnacut
Combat Beads Scout F2, F3.5 Magnacut - Pre-orderPre-order your F2 or F3.5 Titan FramelockExpected delivery: March/ April 2024Pre-orders available for a short time!Small but mighty - the Scout F2 The F2 is really practical for everyday use. With a total length of just 12.7 cm, it fits in almost any pocket The Scout F3.5 - big and reliable If you like it bigger, then the F3.5 is your match. It is the pumped-up brother model of the F3 with an impressive 21.6 cm. Payment informationOn account or cash on delivery is not possible when pre-ordering, but don't panic, we have many other secure payment methods available.
€240.00*

€265.00*

(9.43% saved)
Spyderco UK Pen Knife
Spyderco UKPK Slipjoint It's no big secret that the laws regarding knives and carrying them in public are much stricter in Europe than in the USA.However, Spyderco was one of the first major manufacturers to address this problem, and with the UKPK (UK Penknife) has created a kind of European classic in its own range, which even meets the very strict laws in the UK.Two important factors come together here: although the UKPK - thanks to the Spyderholes - can be opened with one hand, the blade does not lock when open, but is held by a strong back spring (similar to a Swiss Army knife, for example). This allows you to carry the UKPK perfectly legally. However, despite its small size, lack of locking mechanism and extremely lightweight construction, the UKPK is a highly functional pocket knife. The thin blade proves to be a real cutting devil in everyday EDC thanks to the raised flat grind and shows that Spyderco really had a cutting tool in mind here and not a folding crowbar. The built-in CTS BD1 steel is very corrosion resistant and also easy to bring back to razor sharpness after use. The FRN (Fiber Reinforced Nylon) handle scales do not require steel plates underneath and ensure a construction that is as light as it is sturdy. At a mere 48 grams, the UKPK hardly adds any weight in your pocket. The deep-carry pocket clip can be mounted on the left or right side, which makes the knife interesting for left-handers as well. All in all, with the UKPK you get a really highly suitable EDC pocket knife which not only complies with local legislation, but also proves to be a loyal companion.
€92.00*

€114.95*

(19.97% saved)
Böker Daily Knives AK1 Reverse Tanto Grenadill
Böker Daily Knives AK1 Reverse Tanto Grenadill in cooperation with Alex Kremer and Daily Customs versatile small everyday knife short reverse tanto blade made of powder metallurgy RWL 34 handle made of Grenadilla wood handle can be easily removed with the included Torx wrench and replaced with a variety of alternative scales lanyard loop can be hidden in the handle Comes with a high quality black leather sheath with a sewn-in Ulticlip#. handmade in the Böker knife manufactory Solingen
Böker Coffin Denim Micarta 
Böker Coffin Denim Micarta Chuck Gedraitis designBlue Micarta handleDropPoint MagnaCut blade with decorative ricassoincludes felt caseMade in SolingenBöker Coffin Denim Micarta: Your new favorite knife from Solingen. Direct from the legendary Böker manufactory in Solingen - this is German craftsmanship at its best. Tradition meets coolness.The design? Absolutely casual! Thanks to Chuck Gedraitis, the knife combines stylish elegance with a good dose of coolness. The jean-blue, coffin-shaped Micarta handle shell is not only mega in the hand, but also looks damn good.MagnaCut steel: Sharpness that inspires. And the blade? A real stunner. The powder metallurgy MagnaCut steel is so sharp, you'll be slicing everything from apples to rope in no time. With a hardness of 62-63 HRC makes you this knife so quickly no one something. Features you'll love. The slipjoint pocket knife with its 90 degree stop is super handy. And the nail hammer? Not only practical, but also a cool detail that combines the old and the new. The convertible stainless steel clip ensures that the knife disappears almost invisibly in your pocket. Mega practical, right? The icing on the cake? To such a noble part, of course, also belongs a befitting packaging. Therefore, your Böker Coffin Denim Micarta comes in a stylish felt case directly to your home. The Böker Coffin is a perfect knife cocktail of Solingen craftsmanship mixed with modern flair.
GiantMouse ACE Farley Knife Lounge Exclusive
GiantMouse ACE Farley Knife Lounge Exclusive a Knife Lounge Exclusive YES!! Slip Joint! YEAH! M390 blade steel with a PVD Finish Natural Micarta Scales Traditional knife If there is one item that has found its way into our pockets as a matter of course for generations, it is the pocket knife. Our grandfathers had one and even our grandmothers often carried a small knife somewhere in the depths of their handbag. Often these everyday companions were then passed on to the children and so it can happen that a pocket knife lingers perhaps already in the third generation in your pocket. With the new Farley Slipjoint GiantMouse bow to exactly this kind of pocket knife - and yet create something new! The shape of the knife is on the one hand oriented to the elegance of French or Italian folders, on the other hand you will find a certain similarity to Jens Ansos Casino. The rounded back spring merges seamlessly into the likewise rounded blade back and offers an impressive holding power that is noticeably above that of a Victorinox Alox. While the blade is made from Böhler's popular M390 steel with a belt satin finish, you have a choice of brass or micarta (which is backed with steel liners) for the handle scales. A real highlight is the impressive Walk &Talk: the rich "clack" when opening the knife is what makes knife hearts beat faster. So that the cutting edge of the Farley does not accidentally hit you on the back spring when closing, GiantMouse have installed a stoppin here, on which the blade root finds a defined stop. The stop at 90 degrees of the blade path also ensures that the knife does not accidentally flap on your fingers during work. To make the knife completely left-handed friendly, not only the wire clip is convertible - you will also find the milled nail cut on the blade on both sides. By the way, the Farley is manufactured by Bestech in China. Here, the manufacturer proves that it rightly belongs to the big premium companies that build knives on a breathtaking level. Don't be fooled: even though the GiantMouse Farley makes an elegant appearance, it is, as always, a real workhorse with which you can definitely do some carving. That leaves the name: as you know, each of the knives is named after a place important to the GiantMouse team. Imagine a bar at the foot of the Golden Gate Bridge. The fog is slowly rising over the water, creating that very special atmosphere in the setting sun. You have a table right by the window and just at this moment fresh oysters are brought to your place. In addition, there is a cool craft beer and in the background plays that surf band that you liked so much last year. Evenings like this are exactly why you keep booking a table at Farley.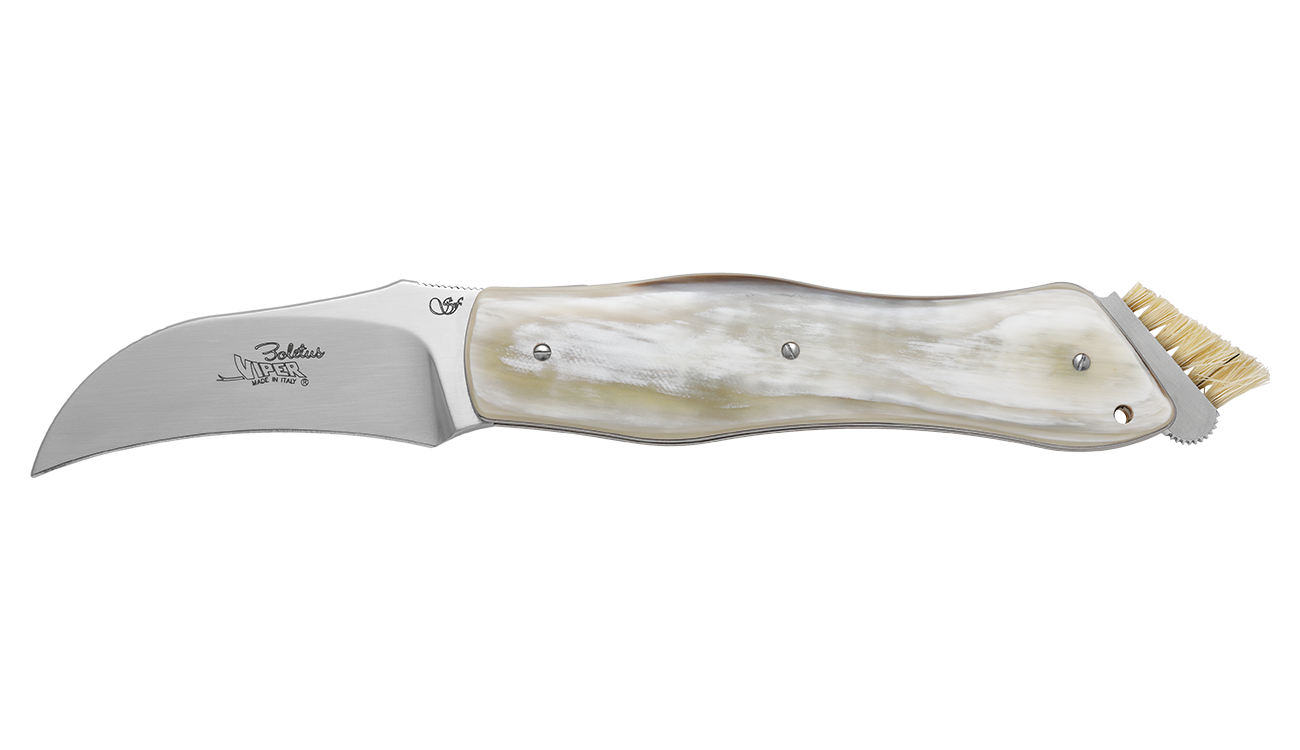 Viper Boletus PC
Viper Boletus PCMushroom knife with blade and bristle brush Fabrizio Silvestrelli design Blade made of NitroB steel with satin finish Handle made from ox horn Leather case included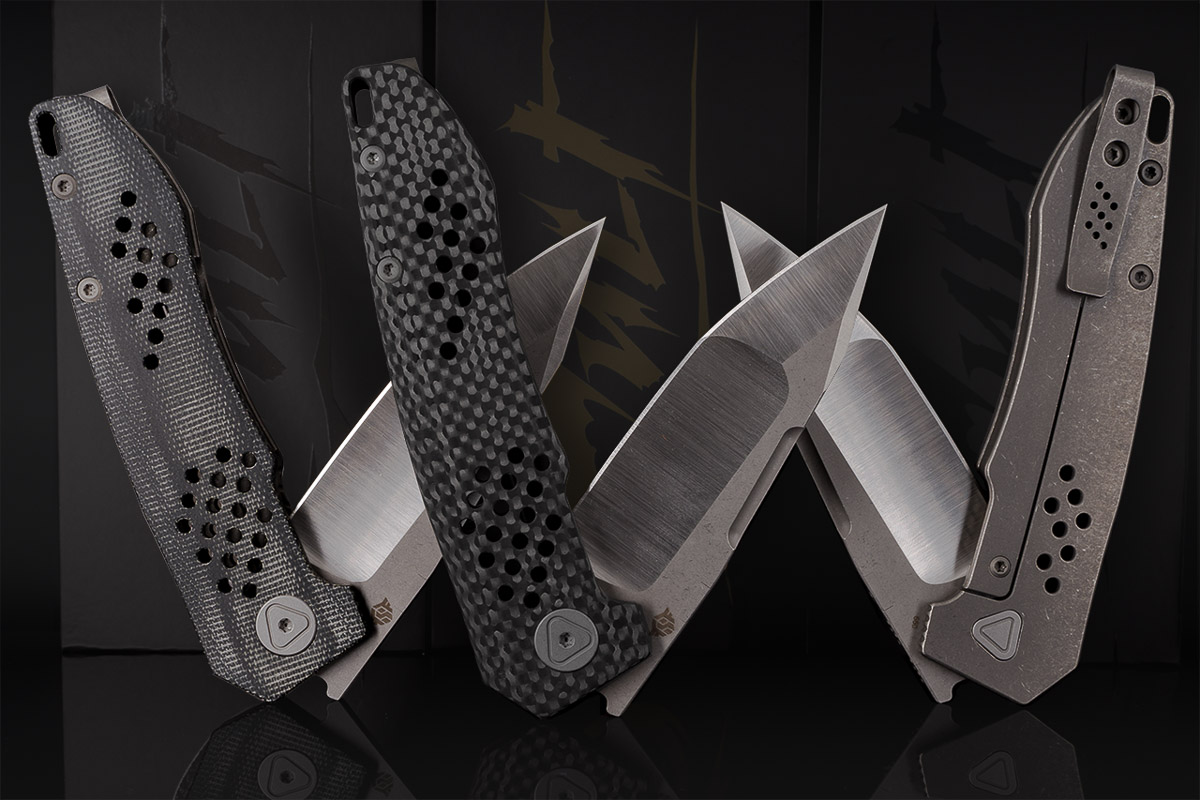 Stahlwerk Cult Carbon
Stahlwerk Cult CarbonFirst edition of 50 pieces including serial number handle made of carbonblade made of M390 with satin finish including storage box with data sheet & sticker
Stahlwerk Cult Sale KnifeLounge Exclusive
Stahlwerk Cult Sale KnifeLounge ExclusiveHandle scale with inlay for your Stahlwerk CultBackspacer and handle shell milled from one block of titanium Custom Upgrade each grip shell is one of a kindOne of OneThe grip shell and backspacer are milled from a single block of titanium and represent a custom upgrade. Each grip shell is unique - a one-of-one masterpiece. This is where perfect series production meets precision craftsmanship. Each inlay was made by Marcus Stein in loving handwork. The result? Each handle is unique and only available once. You have the choice between ten different scales. You can choose from versions made of Micarta, Mocuti, G10, wood and Voodoo resin. The inlays are screwed into the precision milled pocket of the titanium scales, and above the axle screw you will find our Knife Lounge logo. With these scales, you not only give your Stahlwerk Cult a unique look, but also turn your series folder into an absolutely unique piece that exists only once in the world.
Civivi Foldis Black G10
Civivi Foldis Black G10 Ostap Hel Design G10 handle Nitro-V blade steel drop point blade flat blade grind Black Stonewashed blade finish
Mercury Luc
Mercury LucModern slipjoint folder for your EDCElmax blade steelAnodized aluminum handleItalian Worker What a knife: with the Luc, Mercury show that they simply have a knack for slipjoints. This knife is simply a success! The entire line of the Luc is first of all oriented to the classic Worker Slipjoints from the 50s. The handle offers a fairly neutral hand position while the blade has a really long drawn out tip. The highlight of the Luc are the matrials: the anodized aluminum handle scales are not only beautiful, but also incredibly sturdy. The surface offers a velvety feel, so that one could almost speak of a hand-flatterer. The knife is available in an all-aluminum version as well as with inlays made of G10 or Micarta. Especially the G10 version offers a nice grippy surface that really "sticks" in your hand while working. The Elmax blade has a Sabre Grind that cuts well, but is still very stable. As befits such a robust worker, the blade of the Luc runs from bronze washers. A special feature is the nail nick: this milled groove was set at the angle of the transition to Swedge, which not only looks striking, but also provides a really good grip when opening the liinge. It also needs it, because the back spring of the Lucs is not from bad parents. There is a lot of pressure on the blade root, so you don't run the risk of accidentally folding the blade.
Tactile Knife Bexar Dark Matter
Tactile Knife Bexar - Dark MatterDark Matter Version Slip-Joint Pocket KnifeMagnacutMade in Texas USAModern Gentleman That a compact slipjoint knife does not always have to come along classically, Tactile Knife prove in an impressive way with the Bexar: Compact, super modern look, titanium and Magnacut. And yet this compact slipjoint has a very light touch of bygone days, reminding us that we are dealing with one of the oldest folding knife designs ever With an overall length of 17.1cm and a finely honed 2mm thin Magnacut steel blade, the Bexar is a wonderfully compact EDC knife.A great detail of this knife are the fine millings on the axle screw, which in contrast to the texture of the rest of the handle scales, run circularly. A clip was omitted in favor of the clean overall look. For this you can wear the Bexar either in one of the leather pouches of Tactile Turn or just put it in your pocket.
MKM TPF Defense Micarta Green
MKM TPF Defense Micarta Green Bob Terzuola designbased on the Custom CQB Fixed Blade ergonomic handle made of Micarta blade made of CPM-MagnaCut with jimpings on the back of the blade leather sheath with magnetic clip included